As you'll see, I haven't read many fairytale retellings which is ridiculous because I absolutely adore the concept of it. In general, I love it when later books in a series parallel or reference earlier books in the series so to have a whole book loosely following a tale I already know but the book is still its own story is something brilliant. Hopefully, but the end of today I'll have a whole new selection of fairytale retellings being added to my TBR pile.
Read
1. A Court of Thorns and Roses by Sarah J. Maas
Belle from Beauty and the Beast has always been my favourite Dinsey princess and although I haven't read the original story yet, this book brought me so much joy when I saw the parallels and the similarities between the Disney version and the book. From what I've heard around, it sounds like there's a lot of the original story mixed in there too so if you haven't picked up this book yet I would definitely push you to do it.
2. Throne of Glass by Sarah J. Maas
This one probably doesn't even count but I needed to have more than one book in the "Read" section otherwise I wouldn't forgive myself for being so lazy and never getting to any of the good fairytale retellings that I've got listed below. I've heard multiple times that this YA series (probably my favourite YA fantasy series of all time) was inspired by the tale of Cinderella and although the majority of people wouldn't notice it (myself included), I put it up here anyway.
Want to read
3. The Lunar Chronicles series (Cinder, Scarlet, Cress, Fairest) by Marissa Meyer
I feel so bad that this continues to be on my TBR pile. For at least a year now I've been meaning to read these books but I never do (like I said, I'm lazy). The first book, Cinder, is one of my TBR Challenge list so there is no way I'm getting away without read that one.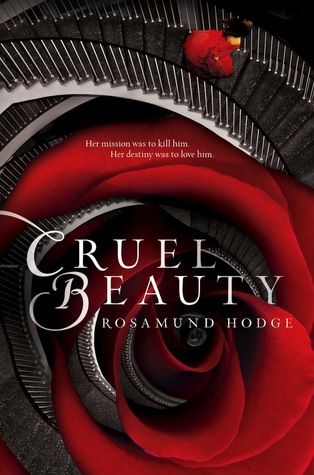 4 + 5. Crimson Bound and Cruel Beauty by Rosamund Hodge
I've seen these a lot actually at the beginning of the year and they did catch my eye, especially the covers. All I know is that Crimson Bound is Little Red Riding Hood retelling, Cruel Beauty is a Beauty and the Beast retelling and they both look good.
6. The Darkest Part of the Forest by Holly Black
This book has had a lot of buzz at the beginning of the year and I'm still interested in picking it up. I'm not sure what fairytale it features but I trust Holly Black and hopefully I'll get to this book at some point.
7. The Wrath and the Dawn by Renee Ahdieh
I've been seeing this book cover a lot and I love it. The tale itself, Arabian Nights, I haven't heard of but the summary of this book has really caught my attention.
Want to be retold
I guess there is a retelling of every fairytale out there if you look for it so I know that these three stories have been retold in YA before but I haven't seen any books that retell them that have caught my attention. If you know any that you'd like to recommend, make sure to let me know!
8. Hansel and Gretel
9. 12 Dancing Princesses
10. Anything from Greek/Roman Mythology (that isn't Percy Jackson)
What have you go down on your list? Leave me a link and I'll make sure to check them out!